Toyota
Toyota Brand Portal
Rebranding is no simple task for any business - particularly for one of Australia's most iconic brands. TMCA is currently undergoing the transition to a new brand and visual identity. They required a bespoke digital solution that would facilitate the delivery of clear, consistent and superior quality marketing communications across every consumer touch point.
T-bone productions has been a preferred supplier of business critical applications to TMCA since 1999. During that time we have built up a detailed knowledge of TMCA's brand, business processes and technological capacity. The T-bone team brought together this detailed knowledge with creativity, imagination and technology to build the Toyota Brand Portal.
The brand portal contains everything required to roll out a completely re-engineered brand to the largest automotive dealer network in Australia. Content includes fonts, retail advertising templates, brand guidelines and logos along with vehicle imagery and a variety of print and digital assets.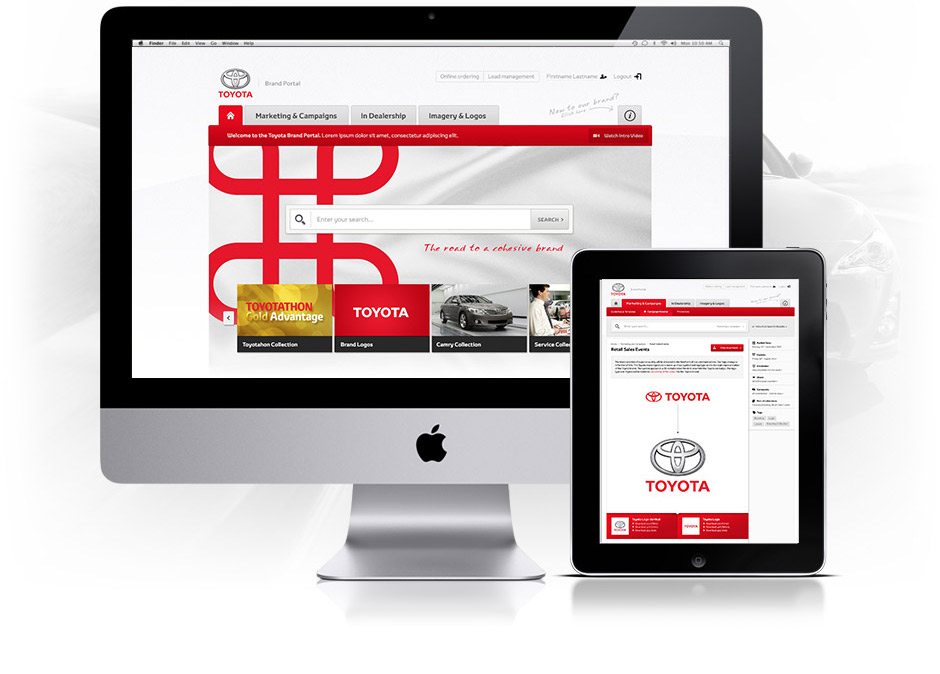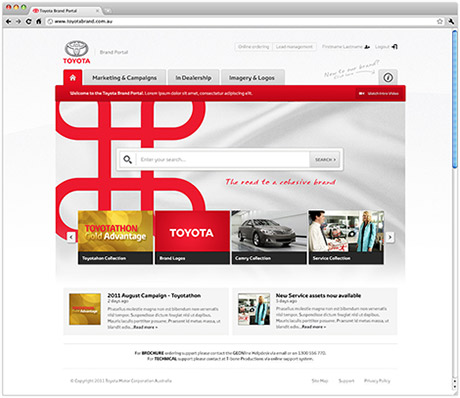 Some of the key features of the brand portal include:
a user centered information architecture;
responsive design for mobile devices;
a clean a simple navigation structure that accommodates 5000+ items of content;
in-line CMS functionality;
inbuilt file share and video share capability;
Oath integration with Coursebuilder e-learning;
both group & individual asset level permissions;
a robust ongoing user confirmation work-flow;
custom search algorithms to provide the most relevant search results;
detailed asset approval and expiration life cycle to ensure that live content is always current.
How we introduced the user to the Toyota Brand
On first visit, a new user is required to watch a mandatory introduction video to explain the most important '6 Golden Rules' to use when applying the new Toyota VI, with easy-to-find help links to re-visit later.